Evergreen Cemetery
Notice of Cemetery Clean Up Dates
As per Section 19. d) of By-Law No. 2021-34, being a by-law to provide for the maintenance and management of the Evergreen Cemetery in the Village of Haliburton, notice is hereby given that the 2023 cemetery clean up dates will take place as follows:
Wednesday, May 3th, 2023
Wednesday, June 7th, 2023
Wednesday, July 5th, 2023
Wednesday, August 2nd, 2023
Wednesday, September 6th, 2023
Wednesday, October 4th, 2023
Wednesday, November 1st, 2023
Click here for more information on the 2023 cemetery clean up dates.
Evergreen Cemetery Information
Name of Cemetery Operator: Municipality of Dysart et al
Cemetery Operator Licence #: 3273995-1
Cemetery Site # : 01139
A municipal cemetery since 1870, Evergreen Cemetery is located at 1216 Harburn Road, Haliburton and is operated and administered by the Municipality of Dysart et al. Evergreen Cemetery has served families for more than 150 years and is a peaceful place to go for those grieving, for those seeking friends and family members, and for visitors who just wish to reminisce by leisurely walking through the cemetery row by row.
Interment Rights for Cemetery Plots or Columbarium Niches
When you purchase a plot or a niche from a cemetery, you are not purchasing the land you'll be buried on but rather the right to be buried in that place. This is known as "interment rights." A person who has interment rights for a plot or niche may be preplanning to be interred themselves or have the option to designate someone to that location instead.
Interment Choices
Evergreen Cemetery offers different interment choices, such as traditional interments (burials), in ground cremations, columbarium niches and scattering gardens. The columbarium and scattering gardens were installed in 2017 and are bordered by beautiful perennial gardens, tall grasses and two (2) centralized benches for families and visitors to use as a resting place.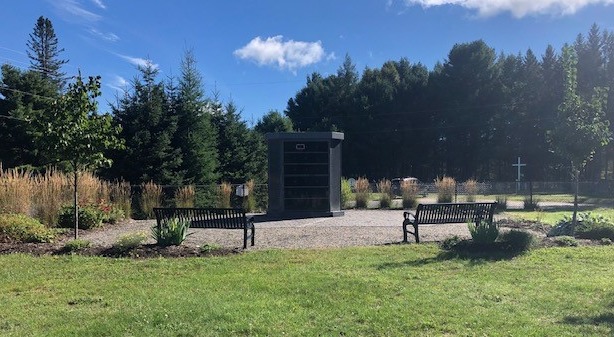 Columbarium and Scattering Gardens
Planning Ahead - Preparation brings peace of mind to you as the "Rights Holder" and to loved ones left behind.
To assist in planning ahead, the BAO- Bereavement Authority of Ontario provides a Consumer Information Guide which informs consumers of their rights and responsibilities and walks you through the steps you need to take to ensure that you protect yourself as a consumer.
Preplanning your own interment isn't the easiest thing to get your mind around and isn't at the top of the list of things to do for most of us. Having said that, there are many benefits to planning ahead, both for you and your family. For one, it provides a clear record of how you'd like to proceed, as well as direction to the executor of your estate.
More than this, planning ahead lets you make your own decisions on plot location, from cremation to burial and all other cemetery services, to the type of memorial you would like whether it be a flat marker in the ground or an upright monument. Wrapped into all this, you can also begin to consider overall cost and how much you'd like to spend.
And that brings up the third main benefit: As difficult as it may seem at the time, it is less stressful to purchase cemetery plots or niches in advance, rather than purchasing them after a death has occurred. When you prepay, you are protected from inflation. And in doing so, you're protecting your family from having to make hard decisions at an already difficult time about what's appropriate, what's affordable and what your preferences would have been.
BAO- Bereavement Authority of Ontario- Consumer Information Guide
Memorial Bench and Tree Program
Through the Memorial Bench and Tree Program you can provide a dedication by placing a plaque in front of a tree or on a bench in one of the beautiful locations available within Head Lake Park or along Head Lake Trail. If you would like, you can choose another one of our beautiful parks scattered throughout the Municipality.
This dedication provides a lasting remembrance in honour of a loved one and enhances the meaning of a bench or tree to park users. People of all ages visit our parks, trails and playgrounds and your generous gift will be recognized and appreciated by all.
Decoration Day and Veterans Day
There is a decoration day on the second Sunday in July and everyone is welcome to attend.
There is also a Veterans Decoration Day which takes place annually on the 3rd Monday in September.
Haliburton Highlands Green Burial Society
The HHGBS has developed a new and improved website.
Subscribe to this Page