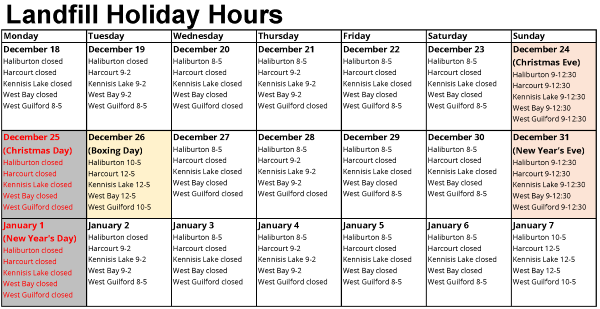 Click the calendar above to see a larger, printable version.
The Municipality of Dysart et al coordinates environmental programs to help residents and businesses manage their waste.
By reducing, reusing and recycling, you help protect the environment and extend the lifespans of our landfills.
Important
A valid Dysart Landfill Identification User Card or One-Time Landfill Pass must be shown to Attendants to access Dysart landfills.
Garbage must be placed in clear bags. Up to three (3) bags of garbage in clear bags accepted per week at no charge.
Recycling is mandatory and must be sorted into Containers and Papers.
Haliburton, Harcourt, Kennisis Lake, and West Guilford Landfills accept payment by debit card, Visa, MasterCard, and American Express. Cash is NOT accepted.
Popular information
Let's be social
Subscribe to this Page