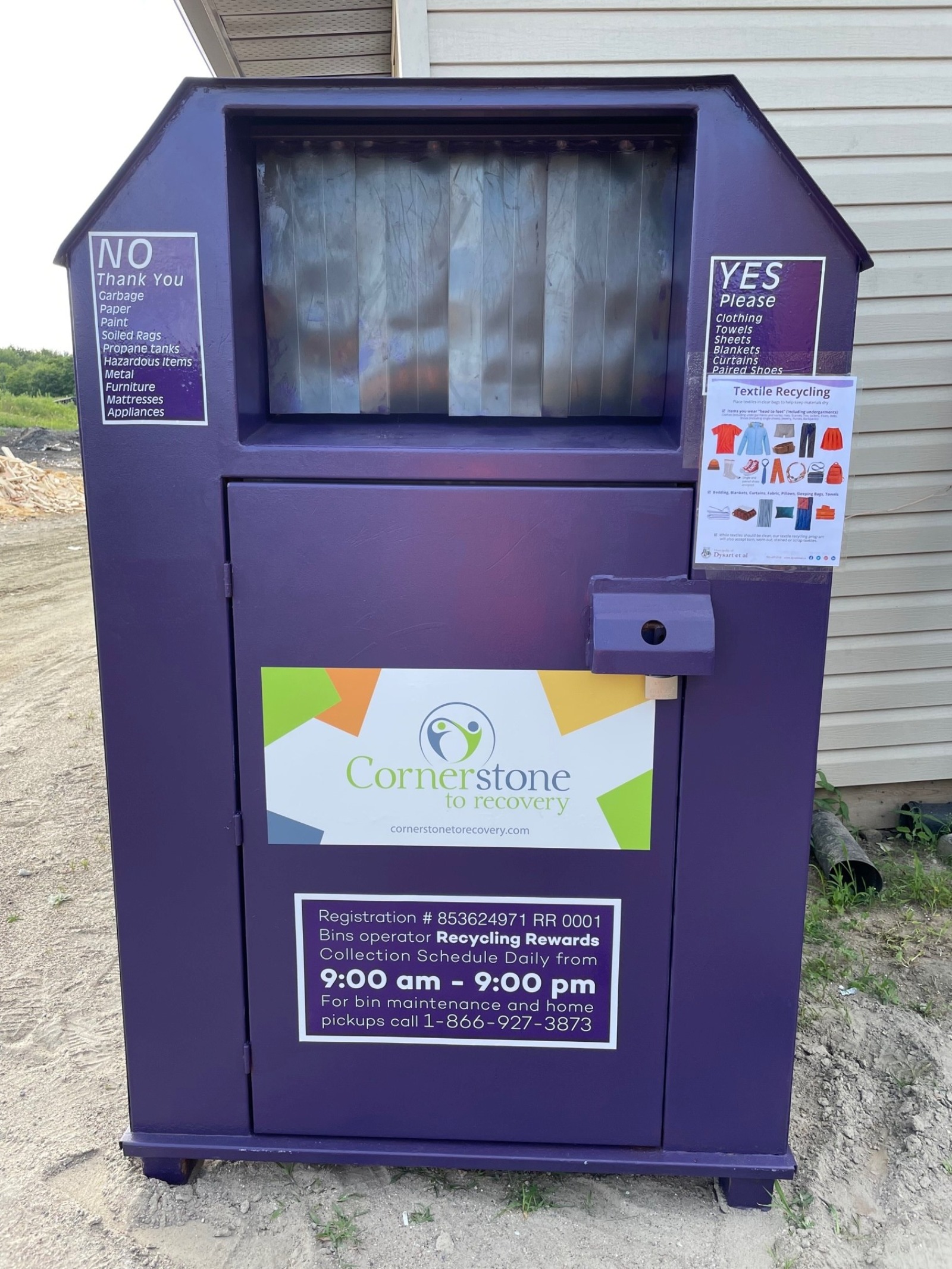 Do you have old clothing you don't need anymore? A single shoe you're not sure what to do with? Do you have old bedding or pillows you feel no one else would use again?
Along with donating gently used clothing to the Haliburton 4Cs Lily Ann Thrift Store and the SIRCH Community Services' Thrift Warehouse, residents of the Municipality of Dysart et al can drop off textiles for recycling at Dysart's five waste disposal sites!
Dysart residents can drop off textiles including:
items you wear "head to foot"

clothes including undergarments and socks
hats
scarves
ties
jackets
coats
belts
shoes (including single shoes)
jewelry
purses
backpacks

bedding
blankets
curtains
fabric
pillows
sleeping bags
towels
While textiles should be clean, Dysart's textile recycling program will also accept torn, worn out, stained or scrap textiles. Please place textiles in clear bags to help keep materials dry.
Look for the purple textile recycling drop-off bins at Haliburton Landfill, Harcourt Landfill, Kennisis Lake Landfill, West Bay Landfill, and West Guilford Landfills! Only drop off bagged textiles during the landfill's regular operating hours (entering a site when it is closed is trespassing).
Who operates the textile recycling program?
Dysart's textile recycling program is delivered by Cornerstone to Recovery, a registered, charitable organization that supports people experiencing or impacted by addiction and mental illness. Cornerstone to Recovery is a member of National Association for Charitable Textile Recycling (NACTR).
"We opened our doors in 2004 with the intent to provide accessible, holistic and self-sustaining recovery programs in an environment where individuals and families could gain the tools and support needed to change their lives," said Patty Trudel, Cornerstone to Recovery's Director of Finance & Operations. "We offer a wide variety of programs that include subsidized residential and day programs, counselling, 12 step meetings, and more. Our programs are free or low-cost, with a goal of making addiction recovery programs accessible, barrier free, community-based and sustainable. The proceeds received from our Textile Recycling Program have enabled Cornerstone to provide these much needed programs as we receive little to no government funding."
Cornerstone is partnered with Talize Inc., operating as Recycling Rewards, which is a for-profit duly licensed Canadian recycling company operating in Ontario.
"We have been around for 15 years setting the standard in recycling industry for the collection and recycling of clothing," said Shubham Sharma, Recycling Rewards' Business Development Representative. "We have well established virtual call center, truck, and fleet services to provide excellent donation bin programs. We built, placed and maintain over 900 textile recycling bins across Ontario. We are proud to promote a greener earth by providing quick and easy solution to textile recycling while supporting charities."
How are textiles recycled?
Recycling Rewards collects the textile materials dropped off at Dysart's waste disposal sites. Once collected, the textiles are delivered to a warehouse facility. During unloading, textiles are weighed on a certified scale. Textiles are then manually sorted into categories such as "below average," "average," and "above average." Upon completion and periodic inspection of the sorted material, employees proceed to the baling and labelling of the product. Bales are loaded into containers and shipped locally, nationally and internationally, where requested.
While sorting, all unusable material is moved out to a "quarantine" area. The unusable items are shipped to a local grader, where they are shredded to be used as industrial cloth rags and wipes, and insulation and stuffing.
Of all the textiles processed by Recycling Rewards, 25% to 30% are reused domestically including being sold in Talize stores, 55 to 70% are reused internationally, 5% to 10% are used for other purposes (industrial cloth rags and wipes, and insulation and stuffing), and only 1% of materials are disposed.
A local and global issue
In January 2022, Dysart conducted a waste composition study. The study found textiles accounted for 1.63% of Papers Recycling (incorrect stream), 0.37% of Containers Recycling (incorrect stream), and 2.61% of Garbage.
In Canada, the average person throws out 36.7 kg (81 lbs) of textiles annually, while North Americans send 10 million tonnes of clothing to landfill every year. With the advent of "fast fashion," in 2014, the average consumer purchased 60% more clothing than in 2000, but only kept each item for half as long.
By recycling textiles, you help protect the environment and extend the lifespans of our landfills.
Subscribe to this Page