By recycling household packaging and papers, appliances and scrap metal, electronics, household hazardous waste, sharps and medications, textiles and clothing, and tires, you help protect the environment and extend the lifespans of our landfills.
Download our Waste Sorting Guide.
Electronics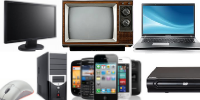 Electronic waste is accepted free of charge at Haliburton Landfill.
Computers and laptops
Printers (desktop and floor-standing, including printer cartridges)
Video gaming devices
Telephones including cellular phones
Televisions and monitors
Radios, stereos (including after-market vehicle stereos)
Headphones
Cameras (including security cameras)
Video recorders
Drones (with audio or visual recording equipment)
Peripherals and Cables (including charging equipment)
Hard drives (and other parts of technology sold separately)
Handheld point-of-sale terminals or devices
Audio recording equipment
Delete your data
It is your responsibility to ensure personal data is permanently removed from all electronics such as computers, laptops, tablets, phones, cell phones, etc. The Municipality of Dysart et al and its electronics recycler cannot accept liability for any data that remains on electronics left at the site.
Ink jet cartridges and printer toner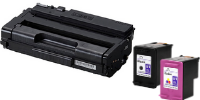 Return ink jet cartridges and printer toner to the manufacturer. Most provide shipping instructions in their packaging or on their websites.
Visit www.everycartridge.com/canada to learn about the take-back options available from printer manufacturers.
Subscribe to this Page