By recycling household packaging and papers, electronics, tires, household hazardous waste, textiles and clothing, ink jet cartridges and printer toners, appliances, scrap metal, and sharps and medications, you help protect the environment and extend the lifespans of our landfills.
Download our Waste Sorting Guide.
Sharps and Medications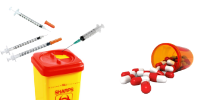 Sharps (needles, syringes, lancets) and medications (prescription, over-the-counter) do NOT go in your recycling or garbage.
Most pharmacies accept medications and sharps for safe disposal. Sharps must be in an approved bio-medical waste container.
Visit www.healthsteward.ca for drop-off locations.
Subscribe to this Page