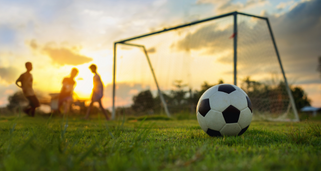 Youth Soccer
Registration for youth soccer for the 2022 summer season is now closed. The team lists are full. To have your child placed on a waiting list, please contact amueller@dysartetal.ca.
Haliburton Grassroots Athletics is an all inclusive youth league that celebrates group play, sportsmanship and all the lessons that the great sport of soccer can teach our youth, both on the pitch and off. We are thrilled to announce that Timbits is going to sponsor this program and provide gear to our younger players. We would also like to recognize the support of our local Tim Horton's owner foe helping out with jerseys for the older youth. Thank you!
Please note that shin guards and cleats are needed to participate in this program. We are still finalizing a location, the program will either take place at the Fish Hatchery on Gelert Road or at one of the school fields. As we finalize these details they will be posted on Facebook and here on our website.
Updates and information about weather will be posted at:
https://www.facebook.com/groups/759377745445672/
Cost
$100.00/player
Dates and Times
Every Thursday from June 30th - September 1st
6:00 pm - 7:00 pm
Age Groups
U6 (birth years 2017 and 2018)
U8 (birth years 2015 and 2016)
U10 (birth years 2013 and 2014)
U13 (birth years 2010, 2011, 2012)
Volunteer Coaches
Volunteer coaches are essential for the success of this program. Without volunteer coaches, we will have to cancel the program. If you are able to volunteer, please contact Kathy Judson at kathy@sweat-bank.com.
Women's Soccer
Play like a bunch of girls! Haliburton Ladies Soccer is happening this year. If you're in the area and like to play footie, sign up today. All levels welcome. Cleats and shin guards are required to play.
Join the Facebook group at:
https://www.facebook.com/groups/539948201129079/
Cost
$100.00/player
Dates and Times
Every Sunday from June 16th - September 18th (no games on holiday weekends)
5:00 pm - 6:00 pm
Subscribe to this Page