Easily collect food & beverage cartons and other recyclables with Dysart's new reusable bag
How do you collect acceptable recycling items in your home?
There's now an easy answer to this question, thanks to the launch of the Municipality of Dysart et al's new reusable recycling bag!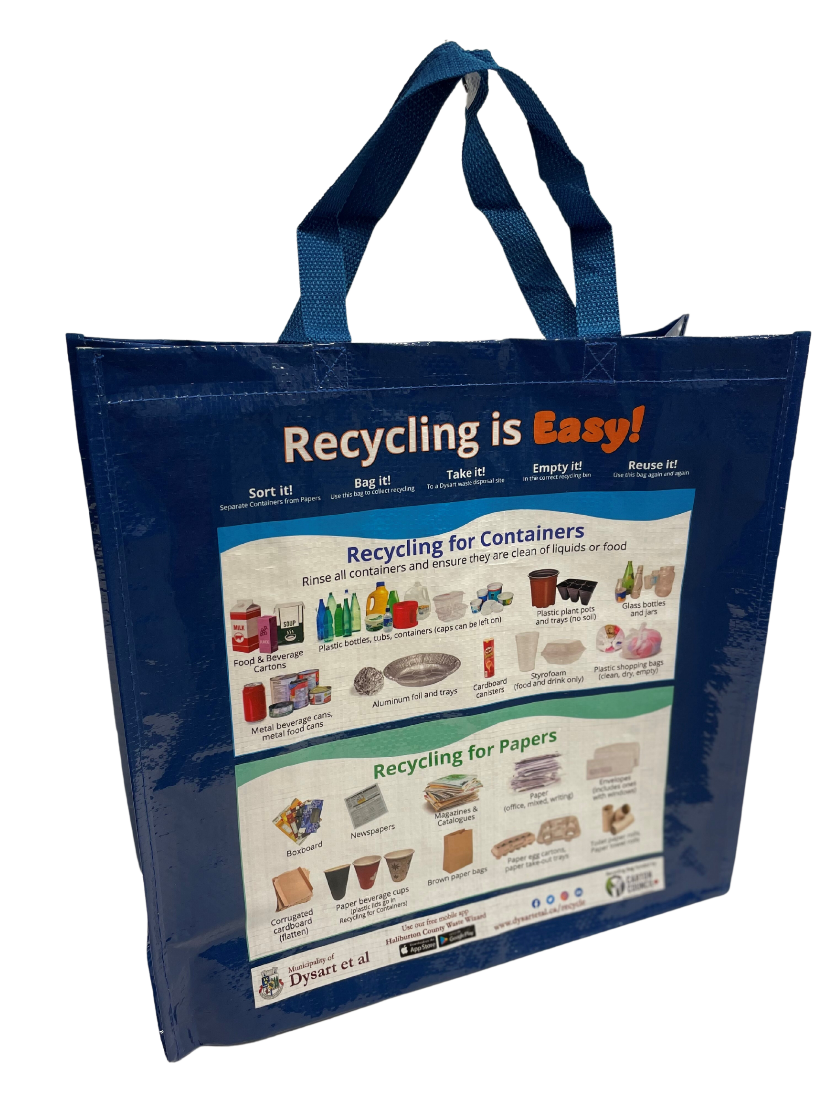 Starting June 13, 2023, Dysart households can pickup one free reusable recycling bag at Haliburton, Harcourt, Kennisis Lake, West Bay and West Guilford Landfills during regular operating hours! There are 3,000 reusable recycling bags available for pickup, while quantities last.
Dysart's reusable recycling bags have a volume of 30 litres (18 kg payload), with an inner divider to easily collect and separate acceptable containers and papers for recycling. Custom artwork highlights acceptable materials to make it easy to sort recyclables at home.
The reusable recycling bag is part of Dysart's multi-month public awareness project, "Recycling Is Easy!" funded by the Carton Council of Canada.
"The Carton Council of Canada is pleased to support the launch of Dysart's reusable recycling bag," said Isabelle Faucher, Managing Director of the Carton Council of Canada. "The reusable recycling bag will make it easy for residents to collect, transport and recycle acceptable materials, including food and beverage cartons."
In Dysart, empty food and beverage cartons go in Recycling for Containers. Acceptable types of cartons include shelf-stable cartons for juice, milk, soy and grain milk, and soup and broth, and refrigerated cartons for milk, juice, cream, egg substitutes, soy and grain milk. Caps can stay on. Straws go in the garbage.
"A hallmark of Ontario's successful Blue Box program is that in communities with curbside collection, the sight of homes placing blue boxes at the curb helps establish social norms," said John Watson, Dysart's Environmental Manager. "It becomes very apparent when a household is not recycling, and social pressure may inspire participation in waste diversion programs."
For a community like Dysart that is depot-based (no curbside collection), the lack of a standardized recycling container results in poor social cohesion and social norming, and minimizes the general awareness of recycling. By distributing a customer-made reusable recycling bag to Dysart residents, the municipality hopes to change that!
"We can't wait to see residents using the new reusable recycling bag when they drop-off recycling at our waste disposal sites," said John. "The reusable recycling bag demonstrates that recycling is easy!"
Subscribe to this Page