Many ways to explore
Within the Municipality of Dysart et al there are many different ways to explore our trails.
The Rail Trail
The Haliburton County Rail Trail is a multi-use trail maintained by the County of Haliburton.
April 2 - November 30

Strictly non-motorized use from April 2 - May 1 (walking, biking, horse back riding)
May 1 - November 30 multi-use, motorized users only permitted from 10:00 a.m. - dusk
Only ATV users who hold a permit with the Haliburton ATV Association or the Kawartha ATV Association are allowed to use the Rail Trail

December 1 - April 1 - trail is strictly for snowmobiling and a permit is required.
Trails Requiring Permits
There is a network of trails that require trail permits. Each of the organizations listed below sells permits for their trails and can provide access to trail maps.
Snowmobile Trails
Contact the Haliburton County Snowmobile Association to purchase your pass for the OFSC Trails and explore the 370 km of trails in Haliburton County.
Haliburton Forest and Wild Life Reserve Ltd. offers 400 km of well maintained snowmobile and winter ATV trails.
Snowmobile Parking
Overnight parking of vehicles and trailers is not permitted on municipal roads or parking lots within the Municipality of Dysart et al.
Snowmobilers are encouraged to use the designated snowmobile parking area at Head Lake Park, when coming to spend time in downtown Haliburton.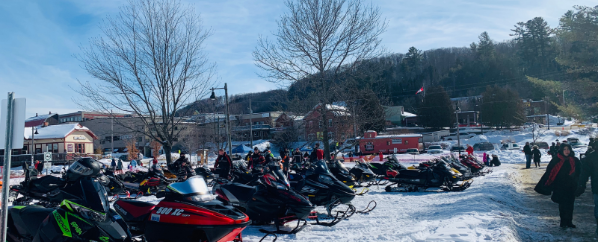 Day use parking for vehicles and trailers is available at the following municipal lots:
1 Park Street (ideal for vehicles pulling trailers), in the village of Haliburton
Head Lake park lot
West Guilford Community Centre
Harcourt Community Centre
A.J. LaRue Community Centre
Subscribe to this Page